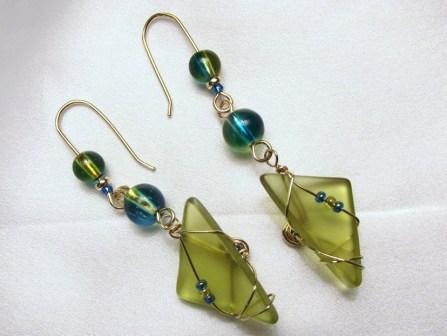 This week we'd like to introduce you to Mary Tangora of
Tangora Designs
.
Mary hails from Champaign Urbana, IL, but if you're from Urbana then it is Urbanaq Champaign, Sister cities!
Where can we find your work?
My jewelry company is named Tangora Designs, on Etsy it's
TangoraDesigns
. I have a brick & mortar gallery called
Wind Water & Light
, which is located in Urbana, IL at Lincoln Square. If you ever find yourself in Urbana please drop by 300 S. Broadway and say
"Hi"
!
What's the first thing you remember making?
Candles When is was in 6th grade I used to make candles and go door to door selling them.
Why work with recycled materials?
Too much trash in this world. The materials I use cut the waste, and it is such fun making something lovely out of discarded items.
What are your favorite tools?
I have red needle nose pliers that I just love and it was my first tool I ever got. You can often hear me say "where are my red pliers?"
What do you do for fun?
Make things. And when I get a chance I love to swim in the ocean. Cook, I like to cook.
Who inspires you?
I get inspiration from within. It is a great feeling when I come up with a stellar new item that I have never seen before. I do look at the net a bit but no one in particular.
How do you promote your work?
What music do you listen to while you're working?
We listen to everything from World beat, jazz to pop, a little Celtic, and more jazz, oh yes I LOVE the accordion too. So I am always on the lookout for any accordion music.
Read any good books lately?
The Four Agreements
All about self help!! We represent a few authors and publishers in our gallery. There is a fun fun book called
Minding Mama
that is a fun read. Mostly I make things, and make more things, and read about making things, and write about making things and make more things.
Been to any great exhibits?
We went to
Chicago Museum of Modern Art
and a coule of galleries in Chicago a couple of weeks ago.
What's in your future?
A glass of wine, No really. No one knows what's in their future. My Mom is 98 and has Alzheimer's to the point she doesn't know me anymore. I want to be able to keep making things. I would love a new house. I have traveled and wish could do so again but with a gallery I am stuck where I am 7 days a week. Most the time that is just fine with me.
Have any words of wisdom?
Don't undercut the galleries with your pricing EVER. It is important to keep small galleries open and healthy. Communities NEED nice places to shop in the real world.
Well that's it.
Thanks for being interested,
Mary Tangora
Tangora Designs
Images & Text ©
Mary Tangora